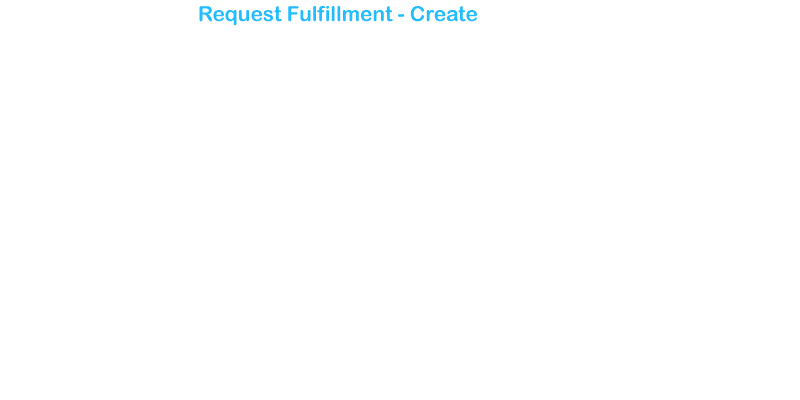 Request Fulfillment
Improving the satisfaction level of Internal & External customers and reducing operating costs are critical for Organizations to succeed in the new world economy.
SMART Service Desk Request Fulfillment module stops paper at the source, helping companies increase accountability and boost productivity. SRM is used by service desk professional from IT, HR, Facilities, Finance and Administration Departments to support service requests. Service Support Associates can view the requested services, access customer data, check the required approvals and resolve the service requests.
Implementing SMART SRM will achieve the following
Provide all standard services using SRM (such as getting new hardware, new software media and other HR, Payroll & Facilities services).
Provide a uniform mechanism for processing service requests, by giving reliable information on availability of service requests and implement an approved process of how to obtain them.
Assist in General Information's, queries, suggestions and complaints
Benefits
Streamline and automate all Service Request across the organization.
Reduce business service resolution time and service costs using web-based tool.
Develop Knowledge base for online help, guidelines and checklists.
Reduce phone call volumes by providing web-based self-service to your employees or customers.
Enhance the Business unit's confidence and perception of IT Systems.
Improve Customer Satisfaction & Service Staff efficiency levels.
Features
Service requests may come through email, telephone, IVR phone systems etc
Supports - following Major activities in managing Service Requests
Create, view, update or cancel service request
Automatic/manual assignment of tickets to support staff based on availability, roster, holiday calendar, leave, work load, expertise etc
Alert notify support staff and end users
Enable the user to answer a satisfaction survey before closing the request. Only if the request is completed to the satisfaction of the requester, it can be closed by the service desk
Provides the capability to establish self-help access to pre-defined lists of services
Supports Multi-level Service Request Approvals prior to the request being fulfilled
Enables Request Models to be set up for common requests, with auto multiple tasks initiation, when one service request is raised to automate complex requests like new employee joining
An Approver can nominate an Alternate Approver, without changing workflow
Send Escalation alert messages for (supports both functional & hierarchal escalation) on overdue service requests, at any stage of the request fulfillment life cycle
Integration with Service Level Management to track and ensure compliance with service level agreements (SLAs)
Configurable workflow for routing assignments as per pre-defined business rules
Work Orders or Tasks can be created and assigned for fulfilling a service request
Supports process for billing or cross-charging for the request being fulfilled for ongoing costs of Request Fulfillment E.g.: by division, by department, by location, against particular cost centers