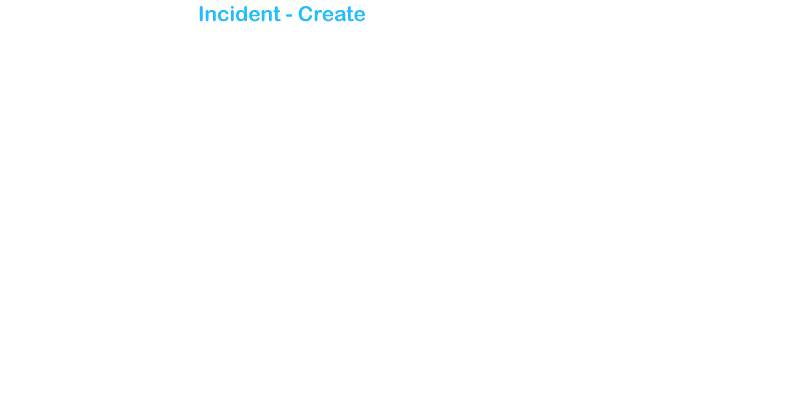 Incident Management
Business Challenge
Everyday Incidents happen within IT & Business systems as a challenge, along with stress and anxiety they cause. The Weak Incident handling process will have a negative impact on your business. To have an efficient and effective service desk to handle all of your incidents, you should have supported software tools for Incident Management that facilitates the restoration of normal operation of an IT Service, as early as possible.
How SMART Incident Management can help you?
SMART Service Desk Incident Management would improve the quality of your IT Service, productivity and customer satisfaction; reduce costs and achieve operational excellence using an single out of the box Integrated software solution
Benefits
Reduced cost of operation.
Minimize service disruptions.
Improved quality of service.
Unified call logging and resolution mechanism for geographically diversified locations.
Use ITIL best practices for IT Service improvements.
Reduce repeat Incidents using a pro-active approach.
Develop Knowledge base, based upon problem solving experience.
Enhance the Business unit's confidence and perception of IT Systems.
FEATURES
Tools allow access controls to open, modify, cancel, close and re-open incidents based on pre-established conditions using console or self-service Portal.
Matching incident records, related problem records/ known error records and relevant knowledge articles are available to service desk staff and/or for self-help
Automatically trigger actions as per the underlying workflow when SLAs are in danger of being breached
Supports Incident models to easily handle recurring incidents, with Steps to be taken, Sequence of Actions, Timescales & Thresholds and automatic escalation
Incident records have hierarchical category fields to record the type of incident at opening, during the call, and at closing the categories can be set by service desk
Incident record contains a field or field(s) to assign an initial incident priority according to pre-established and manually overridden conditions (SLA, business)
Services impacted, level of service disruption etc
Provides ability to input free rich text & attach multiple files for the recording of Incident descriptions and resolutions
Automates the rapid classification and recording of Incidents
Assign priority, business impact, and urgency indicators
Supports the automated routing (alerting) of Incidents to selected support staff or groups
Escalations can be set based on service / operational level targets, business priority to set notifications for support tiers, managers and vendors.
Incident record contain fields to sequentially record diagnostics and symptoms
Support cloning of Incidents
Close multiple incidents of same nature with a parent child relationship
Record service cost and amount of time worked
Facilitates the analysis of Incident and call data to identify trends
Generate reports on outstanding (unresolved – open and overdue) Incidents
Allows closure of Incidents by utilizing customizable Incident closure codes
Provides simple and advanced search capabilities in all languages
Tool facilitates the closure of all Incidents when the associated Problem, Known Error and Change record is closed
View any related inventory and configurations affected by the incident
Allows Incident Management to notify and assign high priority Incidents to multiple associates (Support Groups)
Provides Interface that allows users to check the status of requests, frequently asked questions or view outage information
Facilitates the automatic escalation of unresolved Incidents as per predefined time intervals
Facilitate the use of knowledge base & support check lists for Incident diagnosis and Resolution
Has ability to automate the calculation of priority based on defined business impact and urgency factors
Can Change SLA / Priority of an Incident at any given time
Changes to Priority are tracked via reporting
Supports opening a service request from an incident record & to link the service request to that incident record. Similarly for problem, change and release records
User satisfaction measurement for incidents is automated using surveys.
Easily Copy incident resolutions to knowledge base
Incident record contains a field to record closure categorization and root cause at time of closure of incidents
Full history audit for the incident life cycle for key actions
Integrates with Service Level Management to monitor and track incident response time and resolution time based on priority and / service levels
Integrates with Configuration Management Systems or CMDBs to enable the Service Desk Staff to identify, investigate and diagnose incidents