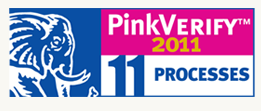 PinkVERIFY
SMART Service Desk has 11 processes complying with the latest ITIL® 2011 guidelines set by PinkVERIFY and the ITIL Software Scheme (ISS) from AXELOS for documentation.
SMART Service Desk - ITSM is now awarded the PinkVERIFY™ 2011 certification for the following 11 processes:
Incident Management
Problem Management
Change Management
Request Fulfillment
Service Level Management
Knowledge Management
Service Portfolio Management
Service Catalogue Management
Event Management
System Asset and Configuration Management
IT Service Continuity Management
About Pink Elephant
Pink Elephant (www.pinkelephant.com) is a global leader in ITIL certification and IT service management education, consulting and conferences. Pink Elephant is proud to be celebrating 20 years of ITIL experience - more than any other supplier.