SMART Service Desk v11, has 11 processes complying with the latest ITIL® 2011 guidelines set by PinkVERIFY and the ITIL Software Scheme (ISS) from AXELOS for documentation.
---
SMART Service Desk - ITSM is now awarded the PinkVERIFY™ 2011 certification for the following 11 processes:
Incident Management
Problem Management
Change Management
Request Fulfillment
Service Level Management
Knowledge Management
Service Portfolio Management
Service Catalogue Management
Event Management
System Asset and Configuration Management
IT Service Continuity Management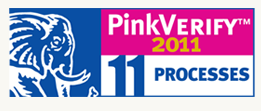 Latest award for pink elephant is shown below
---
About SMART Service Desk
SMART Service Desk is an Enterprise level ITSM Solution developed using industry leading best practices and standards such as ITIL Framework, ISO 20000, ISO 27001, ISO 9001, AS 9001 and NIST. SMART Service Desk has marquee customers in number of sectors such as, Government, Banking, Insurance, Oil, Gas. Electronic Retailers. Manufacturing and Educational Institutions And is currently being used by more than ONE Million Users worldwide
We offer SaaS and On-Premise solutions that let you seamlessly manage services. customers and quality improvement programs. Available through any web browser or mobile phones, our solutions are designed to help you shorten deployment time, reduce risks and lower costs, including support and maintenance expenses.
SMART Service Desk is headquartered in Dallas, Texas with offices in Canada, Brazil, United Kingdom, South Africa, India and Partner Offices in Philippines, Indonesia, Saudi Arabia, Bahrain, Oman. Qatar and UAE.
About Pink Elephant
Pink Elephant (www.pinkelephant.com) is a global leader in ITIL certification and IT service management education, consulting and conferences. Pink Elephant is proud to be celebrating 20 years of ITIL experience - more than any other supplier. Operating through many offices across the globe, the company is the world's #1 supplier of ITIL and ITSM conferences, education and consulting services. To date, more than 350,000 IT professionals have benefited from Pink Elephant's expertise. Pink Elephant has been championing the growth of ITIL worldwide since its inception in 1989 and was selected as an international expert to contribute to the ITIL V3 project as authors of the Continual Service Improvement book and through representation on the International Exam Panel.